Finest Fence Washing In Panama City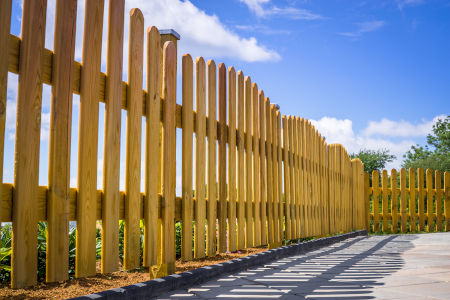 Fence washing isn't something that's on a lot of homeowners' minds until it comes time to fix up your fence. Panhandle Pressure Washing LLC offers fence washing services for any Panama City homeowner that needs it. This service is top-of-the-line and ensures that your fence is looking fresh and new as soon as we're done with it.
Our pressure washing experts know everything there is to know when it comes to pressure washing in the Panama City area. Our business offers a plethora of services that are sure to be satisfactory and of the highest caliber. We have services ranging from house washing to deck washing and plenty more.
Be sure to give us a call when you find yourself in need of pressure washing services. We can't wait to hear from you and give you the fences and exterior surfaces you deserve.
Fence Cleaning
Fence washing is something that may not come to your mind often as a homeowner or business owner in Panama City. You may or may not have a fence that requires some deep cleaning. But if you do and don't want to put in the work yourself, Panhandle Pressure Washing LLC can give you quality fence washing results.
Panhandle Pressure Washing LLC can offer you fence washing services for any material fence you might have. Your fence can be made of wood, metal, composite, or anything. There's no limit or restriction when it comes to fence washing, as we're more than happy to get your fence clean no matter the material.
A Way To Renovate Or Refinish
Fence washing utilizes pressure washing methods that blast away dirt, grime, stains, chipped paint, and more. This could be the perfect way for you to revitalize your fence or simply set the groundwork to refinish your fence. Whatever the case is, we've got your back.
Putting in time and energy to make your home or business looks its absolute best is an admirable feat. Going it alone is something you can do, but you don't have to do it alone. Having a business on your side that knows what you need and can do exactly what you want is exceptional. For all your home maintenance and renovations of your exterior surfaces, call Panhandle Pressure Washing LLC.
Schedule Your Panama City Beach Pressure Washing Services Today!